Our Services
There are 3 Sunday Worship Services:
| | | |
| --- | --- | --- |
| Location | Time | Style |
| Kirknewton | 9.45am | Traditional |
| East Calder | 11.15am | Traditional/modern |
| East Calder | 6.30pm | 'In Focus' - Informal |
In Focus is led by members of the congregation and it is an informal time of worship and fellowship with internal and external speakers on various topics.
The following paragraphs refer to our main Sunday morning Worship Services.
We have two places of worship in our Parish, namely Kirknewton and East Calder. They each serve their respective villages. Both places of worship have their own identity and ethos which allows each to be unique and special. In every service we follow an "Order of Service" for three reasons:
Everyone can follow it and know exactly what is going to happen next;
People can take part in the service by way of the responses;
The Order of Service can be taken home and the applicable Bible passage read again.
There is a welcoming team at both churches who will provide you with an Order of Service and can help you find a seat. We also have an entrance at the back of both churches for those who are disabled or infirm. The welcoming team will be happy to assist you or point you in the right direction. There is also an induction loop system for the hearing impaired.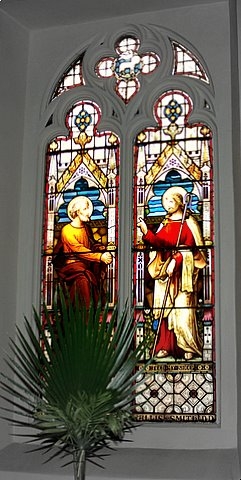 In both places of worship, the service commences with the church officer carrying the Bible into the church and placing it on the pulpit. The minister follows the church officer into the church. The congregation stands while this takes place.
There is an opportunity in the service for voluntary giving by way of an offering to the church.
Communion services are held quarterly and joint family services approximately every two months. During July and August there is only one service, one month in Kirknewton and one month in East Calder. Please refer to the calendar for details.
You would be most welcome at either service, but here is some further information which may help you decide which would be more suitable for your own needs/situation:
In Kirknewton we sing using the "Mission Praise" Hymn Book accompanied by the organ. In Kirknewton there is no Creche or Sunday school nor is there a children's address in the worship service.
In East Calder we sing using various music resources accompanied by the keyboard and our praise band. We have a children's address during the service and a hymn specially for the children. The children leave for Enerj (formerly known as Sunday school) just after the children's hymn and the Youth Church also leave the church at this time.
Please also see these example Orders of Service for Kirknewton and for East Calder.