Who's Who
Our Auxiliary Minister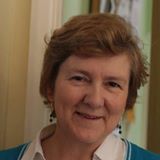 Rev Dr Brenda Robson:
Brenda is a Falkirk bairn. Married to Michael, she has lived in Ratho for almost thirty years. She has four sons Gordon, Fergus, Calum and Fraser and four daughters-in-law and six grand-children.
Brenda was ordained at Muirhouse St Andrews Church in Edinburgh in 2005. She also assisted at Armadale Parish Church for about two years before being introduced to Kirknewton and East Calder Church in 2014.
Auxiliary ministry is non-stipendiary and Brenda works in her day job as a child psychologist. She is an independent psychologist and does child and family assessments for Sheriff Courts and Social Work Departments throughout Scotland.
Brenda has been closely involved with CLAN (Christians Linked Across the Nation) for many years and has more recently enjoyed going to CLAN Women with a growing group from KNEC.
Our Session Clerk
Andrew Coutts:
Andrew was born, brought up, educated and worked in Edinburgh. He married Heather in 1970 and was blessed with three children, two of whom, Emma and Sarah, have survived to adulthood. The first years of marriage were spent in Edinburgh until Heather, a country girl at heart, decided that she wanted to live in the country. So, in 1999 Andrew came with Heather and settled in rural West Lothian above Kirknewton, where Heather has been able to indulge her passion for gardening.
From an early age Andrew has been in Church. Through Sunday School, Youth Fellowship, Sunday School teacher and serving on various local Church committees. He joined the Church of Scotland whilst at Cramond Kirk, although it was only from 1975 whilst a member at St Anne?s in Corstorphine that he became active. Andrew was ordained an Elder in 1978 and was admitted to the Kirk Session of Kirknewton and East Calder in 2003, having moved his lines from St Anne's in 2000.
As a younger man Andrew played rugby, squash, badminton and golf and played at gardening. Golf is still possible and, with a large garden now, gardening is rather more serious. A large dog demands time, as does lunching and socialising. Holidays are usually spent in France, although Andrew has visited rather more exotic destinations (e.g. India, Namibia and Botswana) in pursuit of his passion for wildlife.